'Sharp Objects' Music Contains a Chilling Message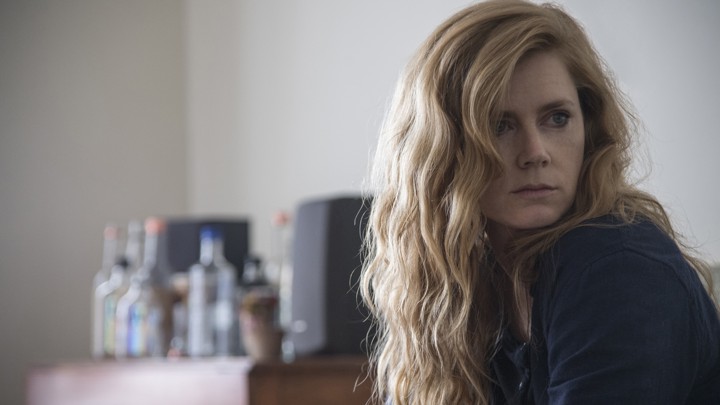 The Sharp Objects Soundtrack Is Even Better Than Big Little Lies'
Love the Sharp Objects soundtrack? Music supervisor Susan Jacobs is partly to thank for that. After previously collaborating on the music in Wild and buzzy female-centric darling, Big Little Lies, the Emmy Award winner teamed up with Sharp Objects director Jean-Marc Vallée. This dynamic duo crafted the limited series' nuanced sound. "He's a painter with music," Jacobs says of Vallée.
Both TV series create an entirely unique and atmospheric vibe using a perfectly curated soundtrack.
BLL
's musical vibe was crisp, cool California breeze. Comparatively,
Sharp Objects music
is hot, heavy Southern heat. It burdens you with its intensity, and it adds so much to the already electric series.
Sharp Objects Music :: Opening Sequences
Some of Vallée's most experimental work comes in the form of Sharp Objects' opening credits. The title sequence opens with a needle descending on a record player. The first episode, "Vanish," we're introduced with a stately shuffle of "Dance and Angela" from 1951's A Place in the Sun.
The track subtly hisses and pops and each episode thereafter, the accompanying song changes week to week. This creative choice, Jacobs says came from the desire to represent the range of music featured in the series. The team's guiding question: "What's going to be inclusive and also really interesting?"
"Each version of the song gives us a broader representation of the complexity of all the characters," Jacobs explains. And they chose "Dance and Angela" as the base tune, she reveals, because it felt like something Alan Crellin — Camille Preaker's vinyl-collecting stepfather — would place on his turntable. "It's melancholic but really romantic," Jacobs muses. "And then the things we did to that piece of music…" She adds with a laugh: "We really had fun."
The opening sequence for Episode 2, "Dirt," contains a dance remix, which Jacobs calls "an homage" to LCD Soundsystem's "Black Screen," The band, though synonymous with partying, provides a desiccated drum loop, when Camille is toying with a needle as she prepares to attend a gathering after Natalie Keene's funeral. "It's much groovier," Jacobs says.
"Things are taking off [in the story]." Come Episode 3, "Fix,""Dance and Angela" is reimagined through a solo piano version that also sounds like something Alan would enjoy. Jacobs explains this was to tease audiences: "[They will be] really getting to know who Alan is."
Sharp Objects Music :: Led Zeppelin
As for what you hear within the episodes themselves, rock ballads from Led Zeppelin form a running theme throughout the series. "Led Zeppelin was something very personal for Jean-Marc," Jacobs shares. "They're a band that helped him get through adolescence."
And, yes, there are some amazing (less well-known) Led Zeppelin songs throughout the season. "Thank You," "What Is and What Should Never Be," "I Can't Quit You Baby" didn't just magically end up there. Jacobs said they had to negotiate with the band for the rights, and it wasn't easy. The band is known for being extremely restrictive. In fact, it was so difficult, according to Variety, that Jimmy Page and Robert Plant only granted four songs for the entire season.
While Camille is a grown woman by the time she discovers the iconic group, Led Zeppelin helps her through her own times of hardship, particularly in rehab. "With these," Alice says as she stuffs the earbuds in her ears, "I can get the hell out of here whenever I want." After Alice dies by suicide in rehab, Camille inherits her iPod.
"At first, Camille is like, 'I don't listen to music, I don't care,'" Jacobs says. "And now she never leaves anywhere without that iPod. Camille is still obviously struggling, but music is such a lifeline for her."
Sharp Objects Music Has A Message
One thing is clear, though. This is a show about music. Camille is the hyperactive DJ of her own life. Like queuing up tunes on her cracked iPhone when on drives, in bed, and in the bath. Her stepdad plays piano, and the town's social life revolves around a karaoke bar.
Every song in the show comes from an on-screen source. Whether it's the multiple stereos in Adora and Alan's living room, the iPod in Camille's car or from the local Wind Gap establishments. Almost always, the soundtrack is diegetic: Viewers hear the same thing as the characters do.
Jacobs made history last year when she won the first ever Emmy for music supervision for her job on Big Little Lies. If the first half of Sharp Objects is anything to go by, maybe Jacobs will find herself back in this category at next year's Emmys. Until then, we'll be playing the show's Spotify playlist on a loop. That is until a possible album hits the shelves.
Sharp Objects airs Sunday nights on HBO, and will end — for good — on August 26th.